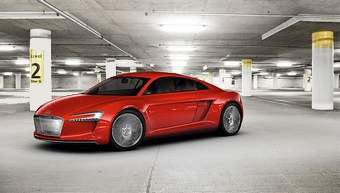 It is official: Audi's e-tron is a go.
Audi of America President Johan de Nysschen says an electric vehicle which is based on the high-performance e-tron concept will make it first appearance in the United States in two to three years.
The glossy two-seat sports car was unveiled at the Frankfurt auto show previous month, but at the time Audi would not confirm plans to produce it. At present de Nysschen says the car is on its way and he also added that "I expect we will see running examples in the next 24 months."
The e-tron concept is motorized by four electric motors, one on each wheel. Audi says the car has a range of 154 miles and it uses lithium ion battery which is positioned behind the passenger cabin.
The demonstrate car is 168 inches long — about midway between Audi's TT and R8 sports cars–and 75 inches wide.
The e-tron uses a space frame and all the added-on body parts, together with the doors and roof which is made up of a fiber-reinforced plastic.
Audi is a developing hybrid vehicle. The foremost on the U.S. market will be the Q5 crossover and it is scheduled to debut in the 2011 model year.