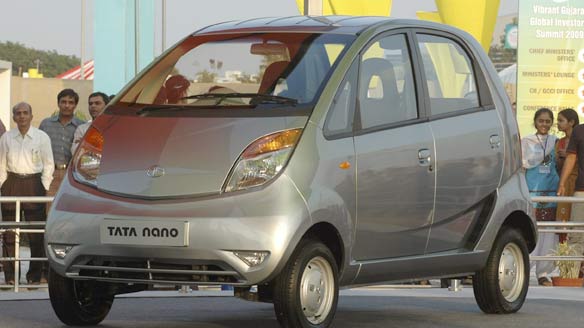 The British journalists from the Car Magazine went to India where Tata Motors produce the Nano car at the price of $2,500/ £1300, the cheapest car, by far, ever made. Unfortunately, they weren't allowed to drive the car, only to have a walk on the back passengers' seats. Thus, we found out that the largest Indian car manufacturer is ready to launch the car on the market as they have already started the production.
The Tata Nano is a small rear-engined four-passenger city car aimed primarily at the Indian market. The car has been very appreciated by many sources and especially by the British journalists as they have experienced on their own the car's 33 horsepower and its ability to reach 65 miles an hour. They said that its four small wheels are at the absolute corners of the car to improve handling. There is a small trunk, big enough for a duffel bag. The car is powered by a 623cc two-cylinder engine at the back of the car. We've also found out that stationary, the four-speed gearbox's shift felt long and lumpy. On a short run close to 60mph the Nano didn't feel strained or unstable, so it should cope with extra-urban duties if required. Moreover, the tiny 12-inch wheels grip admirably.
According to Tata Group, the Nano has a fuel economy of 4.55 L/100 km (21.97 km/L, 51.7 mpg (US), 62 mpg (UK)) under city road conditions, and 3.85 L/100 km on highways (25.97 km/L, 61.1 mpg (US), 73.3 mpg (UK)). Besides, it is a little over 10 feet long and nearly 5 feet wide. The car will come in different versions, including one standard and two deluxe variants. The deluxe version will have air conditioning, but no power steering.
Overall, the guys from Car Magazines were pleased by Nano's driving test and they reassure us that Nano drives like a proper car and it will probably be the best city car from Europe and not only once it will hit the market.